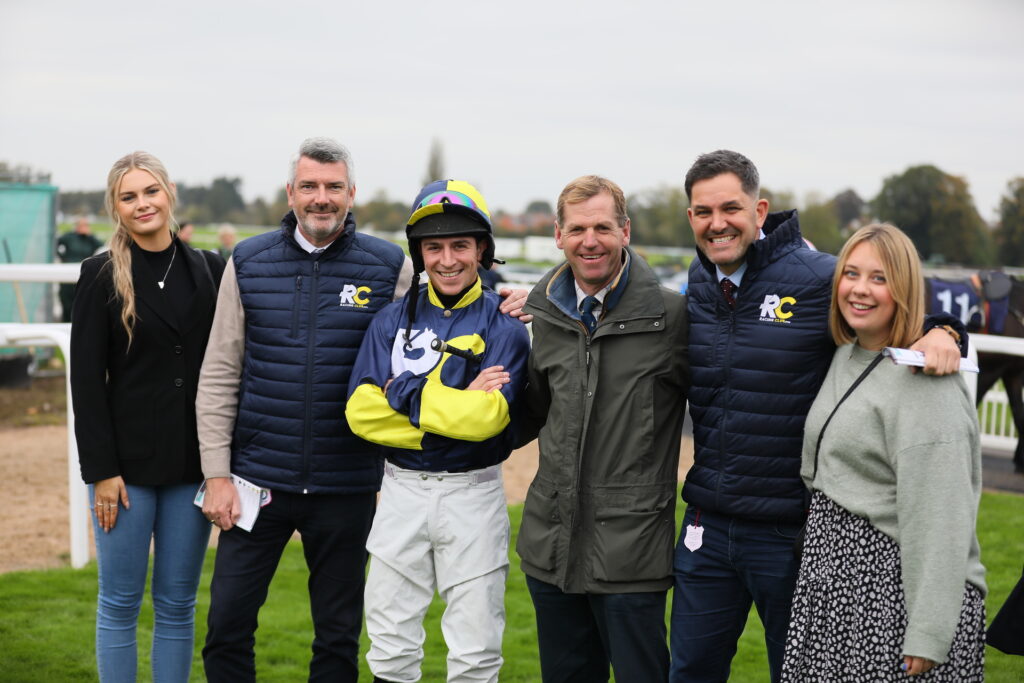 If you're stuck trying to figure out what to wear to the races, look no further! We have a comprehensive guide on what to wear to both flat and jumps racing, so you're clued up on what are the right kind of outfits for all racing occasions.
There are two different types of races – Flat and National Hunt (jumps). Flat racing is when horses run on a flat surface with no jumps, with a focus on raw speed. It is held all year round but officially the flat season runs from May until October, with the final race meeting of the season being the British Champions Day at Ascot. National Hunt or jumps racing sees horses jump over hurdles or fences as they go around the racecourse. The jumps season runs from the start of October through to April.
So now you know the difference between the two types of horse racing, but what should you wear to them? People tend to wear different types of outfits to jumps racing compared to what they would wear to a flat meeting, and that's due to a variety of reasons. Several factors can affect what you wear to the races, such as:
Time Of Year – With the flat season mainly being during the warmer months, people tend to wear lighter outfits, whereas with the jump season being in the cooler months, you tend to wrap up a bit more.
Weather – It's well worth checking the weather forecast when planning your race day outfit. You won't want to be unprepared if there's a sudden downpour when you're at the course.
Time Of Race Meeting – Most race meetings are during the afternoons, but there are evening meetings too. Bear in mind that the evening meetings will likely be cooler temperatures, so you may need to bring a jacket or something to wrap around you for when the sun sets.
Dress Codes – Certain racecourses may have different dress codes to others, or they may have certain race days where they have stricter dress codes. Examples of this are Royal Ascot and The Derby at Epsom, both have much stricter dress codes in place than they would have for their other race days.
Enclosures – The dress code may vary depending on which enclosure your ticket is for. You may find that certain race courses require you to wear something smarter in certain enclosures.
With all this to consider, let us delve into what ladies and gentlemen should be wearing to the races!
Flat Races
With the flat season running during the warmer months, people tend to dress up for the occasion and wear something that makes them look and feel good. That being said, The Jockey Club have brought in a 'wear what you feel comfortable in' rule to their 15 racecourses, so if you don't want to dress up in your fanciest outfits, you don't have to. However, plenty of racegoers still like to don their smart suits and glamorous dresses for their day at the races.
Some of the biggest race meetings of the year are held during the summer, including Royal Ascot and Glorious Goodwood, and for these meetings it's always worth checking the racecourse dress code on their websites before deciding on what to wear.
Gentlemen
Although it's not compulsory at all racecourses, men tend to dress up smart still. Men tend to wear a collared shirt with trousers and smart shoes. Depending on the weather, gents may also add a blazer or opt for a suit, with the option of adding a tie too.
With it being summer, a light coloured suit/blazer is a popular option. Or, if you have a darker suit you wish to wear, you could always add a coloured shirt (rather than white) to brighten your outfit. If you're wearing a suit, another option is to choose a colourful tie to round off your look.
Accessories-wise, sunglasses are a good option to add, so you can watch the racing without having to squint your eyes. A watch and tie clip are other popular additions, adding a bit of 'bling' to your outfit.
Ladies
Whilst some racecourses no longer have dress codes, a day at the races is the perfect excuse to get dressed up and look your finest. Many courses put on ladies' specific days, which put a real emphasis on the fashion, with some offering competitions for the best-dressed racegoers to enter.
With the flat being during the warmer months, you want to wear something comfortable that you won't get too hot in, but still look your best at the same time. Many women opt for a light, flowy dress, or if you find it more comfortable, a jumpsuit is a great option too. Essentially, if in doubt, just dress up nice in something appropriate for the weather that you feel comfortable wearing!
Footwear-wise you need to be clever, as you're going to be on your feet for a lot of the day. Heels are obviously a popular choice, and if you're going to wear heels we recommend opting for a wedge or block heel, as these will be more comfortable to walk in and also are less likely to get stuck in the grass. If you prefer a flat shoe, you could consider sandals or loafers, as both still look classy and can compliment an outfit nicely.
Plenty of ladies add a fascinator or fancy hat to round off their outfit, especially on a Ladies Day. These can add an extra touch of elegance to an outfit and can also help keep the sun out of your eyes. Other accessories to consider are a clutch bag to keep your essentials in, and whatever jewellery you think will complete your look.
Jumps (National Hunt) Races
The jumps season is typically during the colder months, so the most important factor is dressing for the weather. Some of the biggest meetings in the racing calendar are over jumps, including the Cheltenham Festival and the Grand National at Aintree. There are plenty of options for you to still dress up whilst staying warm when heading to the races – we're going to run you through some of the popular options.
Gentlemen
For jumps one of the most popular options for 'traditionalists' is tweed, especially for the colder meetings a tweed jacket is a common sight at racecourses. Another popular option is a suit, especially if you're in hospitality or in one of the more expensive enclosures – you also have the option of adding a waistcoat too for that extra layer. If it's extra cold, a smart overcoat always looks good at a racecourse, but don't be put off from wearing a thick insulated coat either – keeping warm is more important than how you look!
Accessories-wise, a nice watch is always a welcome addition to any outfit, although if you're dressed for the weather it might not be as visible. During the especially colder months, you may want to add a scarf or a hat (flat caps are a popular choice) to round off the look and keep your body temperature up.
Ladies
For ladies, the most important factor to consider when choosing your option is what will keep you warm. Trust us, you don't want to be feeling cold at the races! Racecourses can be quite open and therefore very breezy, so you want to ensure you're wearing something that covers as much of you as possible. If it isn't too cold a jumpsuit is a good option, or if you still feel like wearing a dress, you have the option of a maxi dress. Jeans (not ripped), or a skirt and tights with a jumper are another perfectly good option to consider, particularly a turtle-neck jumper that can keep you that little bit warmer.
For those colder days at the races, coats and jackets become an essential part of your look. A typical race day lasts around 3-4 hours, so you want to make sure you're nice and cosy in your outfit. Tweed coats are a popular option for ladies, as are wax jackets – you'll see plenty of both of these if you go to a jumps meeting.
Heels aren't such a good option for jumps racing, as it's simply too cold to have your toes out. Boots or heeled boots are a more popular choice in the winter months, as they'll keep you warm but they're also stylish and add to the jumps racing 'country' look.
The trio of essential accessories for the colder National Hunt meetings are hats, gloves and scarves. All will contribute to keeping you warm and can also round off your outfit nicely.
Final advice
It's always a good idea to check the racecourse dress code before planning your outfits, as the dress code can vary depending on which course/meeting you're visiting. The racecourse website should have the dress codes on, and they may also give some advice on what to wear too.
Frequently Asked Questions
Do I have to dress up for the races?
Most racecourses in the UK now have a 'wear what you feel comfortable in' policy, so no you don't necessarily have to dress up smart for the races, although plenty of people still choose to do so. It's always worth checking the racecourse website first to see their dress code policy before choosing what to wear.
Do men have to wear a suit?
No they don't have to, although lots do. There are plenty of other options available, such as a shirt and chinos in the summer, or a tweet jacket and jeans in the winter.
What shoes should I wear to the races?
You're likely to be on your feet a lot at the races, so you'll want to wear comfortable shoes. For ladies, stilettos might look lovely but they're not the most practical for the races, especially if you're in an enclosure with plenty of grass! Wedged or block heels would be a better option, or if you prefer a flat shoe either loafers or sandals are good choices. Men tend to wear smart shoes to go with their outfit, and in the summer months can opt for a pair of loafers or something similar that is more breathable for their feet.
Are jeans acceptable to wear to the races?
Jeans are allowed at most racecourses, although it could depend on what enclosure you're in. The golden piece of advice is used again here – always check the racecourse website to see their dress code policy. If you're planning on wearing jeans, most racecourses won't allow ripped jeans, but a smart pair of jeans tends to be acceptable.
Do I have to wear a hat?
No, most racecourses do not require you to wear a hat, although you're always welcome to add a hat to your outfit if you feel it adds to the look. Certain race days, such as Royal Ascot, do have different rules to other race days for specific enclosures. For example, in the Royal Enclosure, gentlemen are required to wear a morning hat with their three-piece suit, whilst ladies are required to wear a hat or headpiece at all times.
What should I wear to Ladies Day?
If you're heading to a Ladies Day meeting, you'll want to wear something that stands out and looks elegant, whilst still being comfortable enough for you to wear all day. Ladies tend to opt for bold colours and unique hats/fascinators to go with their outfit, as they try to stand out from the others.
Can I wear fancy dress to the races?
Most racecourses will allow fancy dress in certain enclosures, providing they aren't offensive or inappropriate.
---
Make sure you're following us across all our social media platforms, to see all the latest updates on our syndicate horses: